ULEZ Van Scrappage Scheme: Everything You Need To Know
Transport For London has announced a new £110 million ULEZ van scrappage scheme ahead of the August 2023 ULEZ expansion.
The Ultra Low Emission Zone is a designated area in London where drivers of older, more polluting vehicles face daily charges to enter the zone. Its goal was to limit the amount of pollution emitted in congested areas.
Several years down the line, the scheme has been a resounding success. Recent figures show a 20% reduction in London's NO2 concentration since the area was expanded in Autumn 2021.
Now, the zone is expanding even further. And TFL is opening a new van scrappage scheme.
In this guide, we'll break down everything you need to know about the 2023 re-opening of the ULEZ van scrappage scheme; Who is/isn't eligible, which vehicles are/aren't compliant, how much you could receive in funding and much, much more.
What is the ULEZ?
ULEZ stands for Ultra Low Emission Zone. It's a government initiative set up by Boris Johnson and brought forward by the current Mayor of London, Sadiq Khan, to address the issues surrounding air quality in the capital.
The scheme provides strict guidelines on what vehicles it deems to emit too much pollution.
It looks to reduce the number of pollutants in the air by encouraging people who drive into  Central London to drive more eco-friendly vehicles or pay a fine. It operates 24/7, so be aware.
Most vehicles will be affected by the ULEZ including this covers everything from cars, motorbikes, and vans.
From 8th April 2019, it will cover the same area as the Congestion charge but will be extended further up to the North and South Circular roads in October 2021.
The ULEZ is going to replace the T-Charge but will be in addition to the already standing Low Emission Zone and Congestion charges.
How The ULEZ Van Scrappage Scheme Works
Transport For London's Scrappage Scheme is designed to help small businesses that operate within the city.
With the ULEZ expanding to cover all London boroughs in August 2023, more businesses face penalties for driving non-compliant vehicles hence why TFL is re-opening their famous van scrappage scheme.
The scheme provides funding to help those running older, more polluting vehicles upgrade to new compliant ones; ultimately saving them £12.50 per day in ULEZ charges.
Successful applicants can scrap up to three vans, and can access the following grant options:
Scrap a van: £7,000
Retrofit a van: £6,000
Scrap a van and replace it with an electric van: £9,500
So, how do you know if you're eligible?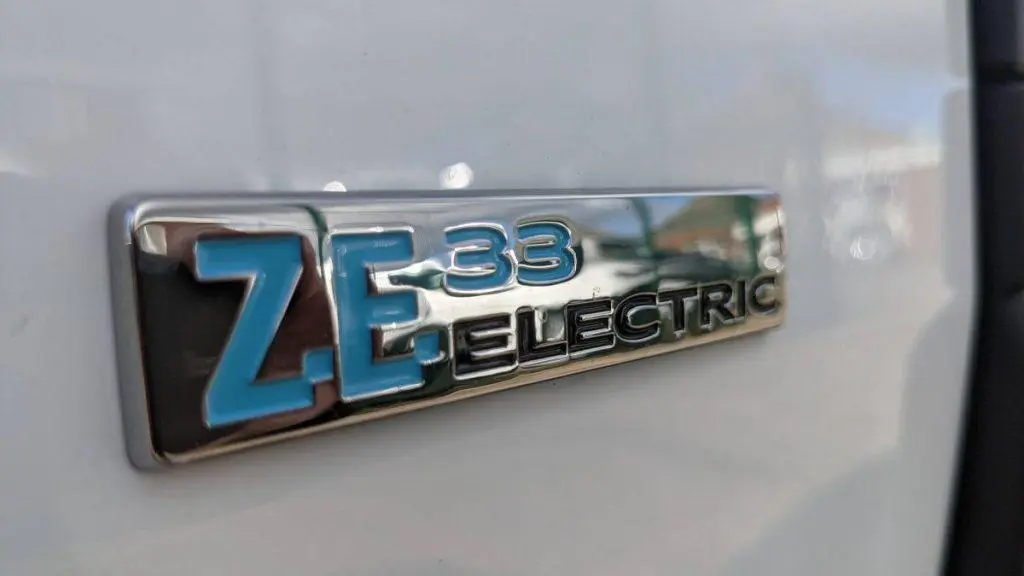 ULEZ Scrappage Scheme Requirements
To be eligible for the new ULEZ van scrappage scheme, you must either be a small business, sole trader or charity with proof you're registered, and actively trading, within London's 32 boroughs. Per TFL's website, here are the requirements for each type of business:
Micro businesses:
Have 10 or fewer employees

Have an annual turnover of up to £632,000 OR up to £316,000 balance sheet total in the current and previous financial year and…

Companies House registration as an active company, or VAT registered, within the 32 London boroughs 
Sole traders must:
Be a self-employed person who owns and operates a business within the 32 London boroughs or the City of London.
Charities must:
Be an entity registered with the Charity Commission as an active charity within the 32 London boroughs or the City of London
We strongly advise visiting the Transport For London website for full terms and conditions.
2023 ULEZ Expansion
From August 29th 2023, TFL's Ultra Low Emission Zone will cover all London boroughs.
At the time of writing (December 2022), an estimated 96% of all vehicles in London are already ULEZ-compliant, compared to just 39% when the scheme was announced in 2017.
The daily penalty for non-compliant vehicles will remain at £12.50. However, the fine for not paying the charge will increase from £160 to £180.
In the lead-up to the expansion, TFL even increased their financial support. Scrappage payments for vans increased from £5,000 to £7,000, while replacing non-compliant vans with electric ones will give you £9,500 instead of £7,500.
When Will Applications Open?
A new £110 million ULEZ van scrappage scheme will be open for applications on 30th January 2023. 
Due to 'unprecedented demand', applications for the first scrappage scheme were suspended in October 2020.
With a new expansion announced for August 2023, applications have now opened for a new scrappage scheme to help small businesses and charities swap out their old vehicles.
However, it's important to note that if you have received a grant payment under the previous scrappage scheme, you can't apply for the equivalent scheme again.
Demand for funding will be very high and likely done on a first-come-first-served basis. We strongly advise you to check your eligibility and apply as soon as possible to avoid missing out.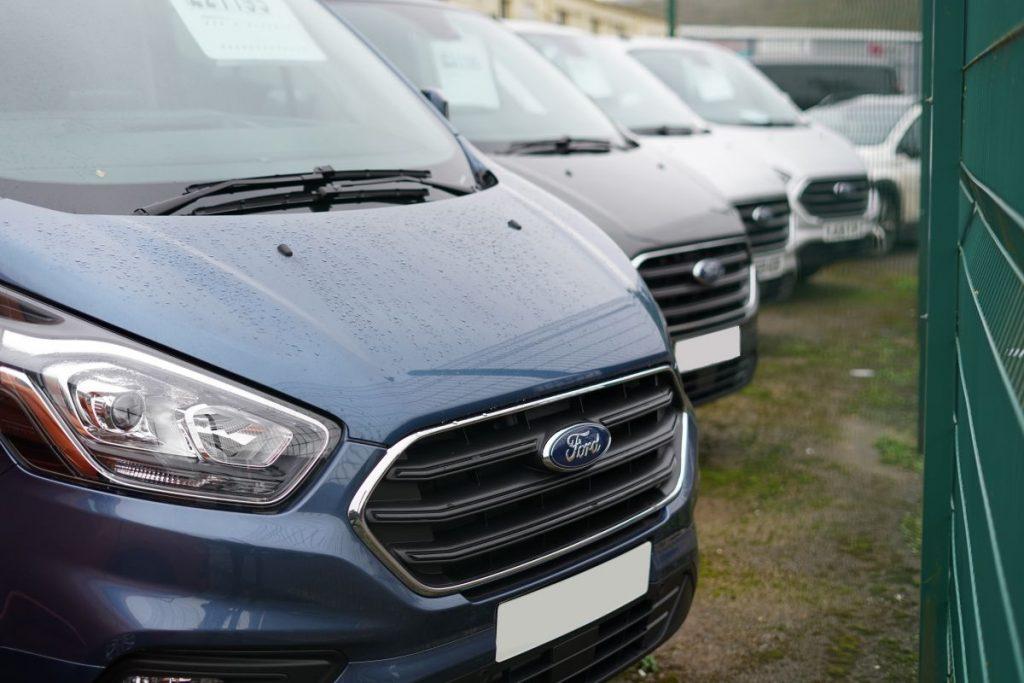 What Vehicles Are Exempt From The ULEZ?
There are a few exemptions for the ULEZ daily charge, which are the following:
Agricultural vehicles
Military vehicles
Non-road-going vehicles which are allowed to drive on the highway (for example, excavators)
Certain types of mobile cranes
Vehicles older than 40 years (built in, or before, 1979)
Not-for-profit minibuses
Showman's vehicles
London-licenced taxis
Vehicles for disabled people (under a sunset period until October 2025)
What is Euro 6?
Euro 6 is an emissions standard to ensure vehicles are emitting low levels of pollution. It was designed as a way to regulate vehicle emissions after discovering the damages they cause to the environment and to the population.
As time goes on, the number of acceptable emissions have been reduced; we're currently in our sixth generation, hence Euro 6, which has been the standard since September 2014.
For our eagle-eyed readers, you may have noticed Euro 6 on all of our vehicles. All new vehicles must be held to the Euro 6 standard. One of the ways of ensuring a van is at the Euro 6 standard is with AdBlue – a chemical that is injected in small amounts that breaks down mono-nitrogen oxides in diesel exhaust to harmless nitrogen and carbon.
Why is the Ultra Low Emission Zone important?
The ULEZ is important for controlling the air quality in London and the effect it has on its citizens. It is said thousands of Londoners die prematurely from long-term exposure to air pollution, and 438 schools are in areas that exceed the legal air quality levels. The Ultra Low Emissions Zone aims to decrease the amount of pollution in London to help the health needs of its population.
In a business sense, it's important to take note of the ULEZ because of the hefty fines that come with driving a non-compliant vehicle into the capital. Anyone driving a vehicle that doesn't meet the standards looks to receive a £12.50 fine. As you can imagine, this adds up pretty quickly.
Does the ULEZ affect me?
The Ultra Low Emission Zone will be important to anyone who goes into the capital regularly, especially if they're already paying the congestion charge and Low Emission Zone charge as it's in addition to the already standing charges. You can check whether your vehicle meets the emissions requirements by checking its registration.
There's also a handy postcode checker to see if you'll be in the ULEZ area.
What can I do about it?
It's likely for the best to invest in a newer vehicle if you're still using a pre-Euro 6 vehicle and going into the capital, as you could be looking at paying an extra £3000+ a year, based on Monday-Friday.
There are a few other options regarding upgrading to LPG or emission reduction technology which might be worth looking into.
A Summary of the Ultra Low Emission Zone:
ULEZ is brought in to reduce levels of pollutants in London's 32 boroughs
Vehicles must be held to the correct emissions standards else a fine will apply
The fine for a non-compliant van in the ULEZ  will be £12.50 a day
Scrappage schemes are available to help with the cost of upgrading to cleaner vehicles
Vantastec Can Help
Vantastec specialises in brand new vehicles, whether that be refrigerated, crew vans, animal transport or anything in-between.
This means all brand-new vehicles meet emissions standards and are exempt from Ultra Low Emission Zone (ULEZ) charges.
We are also able to offer fully electric refrigerated vehicles. Our expert engineers have even found a way to combine electric vehicles with electric-powered fridges to create a 100% electric-powered refrigerated conversion.
Plus, we'll happily provide you with proof of purchase.
Conclusion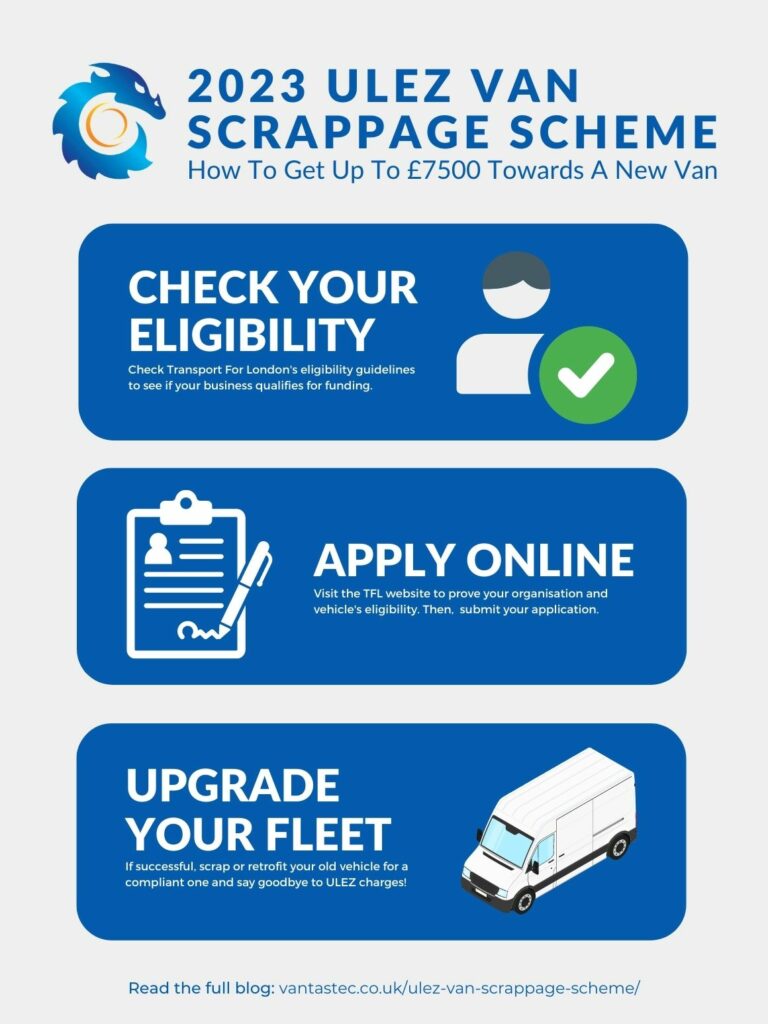 That concludes our guide on Transport For London's new ULEZ scrappage scheme.
Hopefully, we've answered some of your burning questions. If not, you can now make an enquiry through the TFL website, where you can ask them directly any questions you have about their scrappage scheme.
Be sure to check out our full range of guides for tips on van-buying, finance and much more.
Related Posts:
*Disclaimer: This article is written using the latest information available from Transport For London at the time of writing. While we do work extensively to try and keep said information as up-to-date as possible, we strongly recommend consulting Transport For London directly for the latest news and information about the Ultra Low Emission Zone.