Transporting Dogs In Vans: 3 Ways To Keep Your Pets Safe In Transit
Looking for some simple ways of transporting dogs in vans? Here are three easy ways you can keep your furry friends secure.
As the UK van market continues to grow, the number of pet owners transporting dogs in vans grows with it.
We've all been there: you find yourself at a red traffic light only to be pleasantly surprised by a joyful canine next to you clearly enjoying a day at work with its owner.
However, this isn't exactly safe in the eyes of the law. Being caught with an unsecured animal in your van carries some serious consequences.
A new study has found that 29% of van drivers in the UK could face fines of up to £5000 for not securing their dogs while driving.
Findings from Volkswagen have revealed that 41% of van drivers prefer to take their furry friends to work over leaving them in the house or with a dog sitter.
However, a third of van drivers who said they're happy with their dogs riding shotgun have admitted to not restraining them securely.
This increases the risk of distractions while driving. With more distractions comes a greater risk of something going wrong.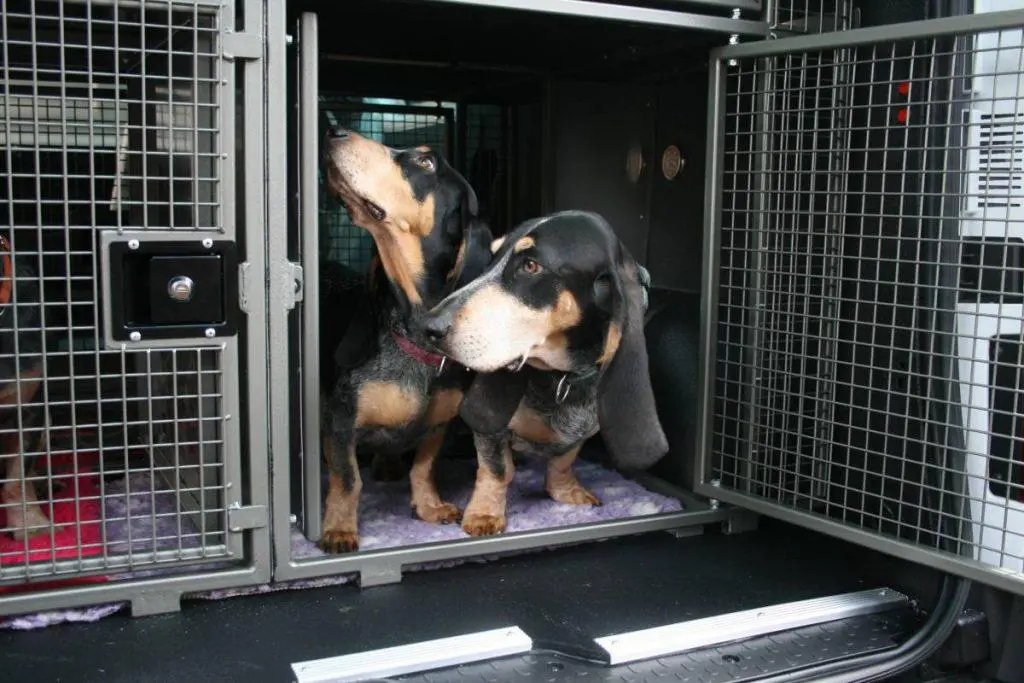 The report also says one in 10 van drivers have been in an accident while travelling with their pet, or know someone who has.
Rule 57 of the Highway code says pets need to be sufficiently restrained while driving.
Failing to abide by this rule can see drivers fined up to £1,000 for 'driving without proper control', rising to £5,000 for 'careless driving' and potentially invalidating insurance.
Safety should be your number one priority on the road. Eliminating all distractions entirely is the most-effective way of doing this.
However, there are also some simple ways you can keep your pets safe and secure in your van while you work.
Here are three simple ways of transporting dogs in vans safely and securely:
1. Seat Belt Harness
If you like taking your pets with you on adventures, chances are you already have – or have looked into – a seatbelt harness for them.
It's a simple premise: you dress your dog in a harness and attach a leash that slots into your seatbelt buckle.
This efficiently keeps your pooch still and reduces the risk of a collision caused by them getting over-excited.
Although, the main drawback of these is it means one of your passenger seats will always be occupied when they're out on the road with you.
This may or may not be a big issue depending on if you're a lone wolf or need space for other passengers.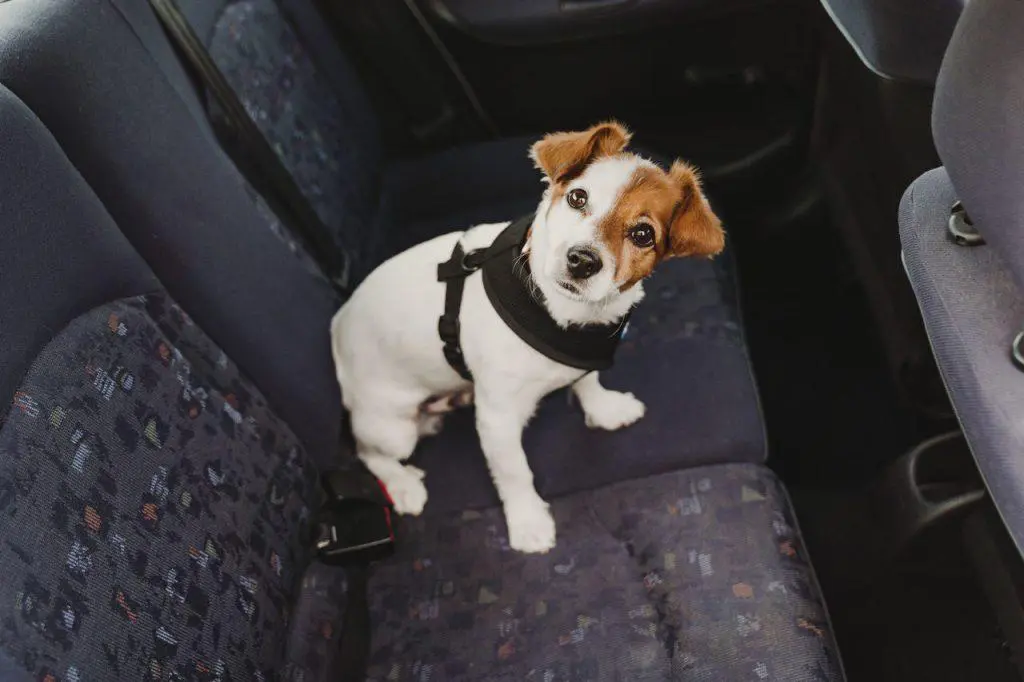 Out of our three choices, this one's also the most cost-effective.
With a cheaper price, though, comes a serious reduction in protection.
Sure, a seatbelt does its job in fixing your pet to one position while driving; But there's nothing surrounding your dog to protect them in the event of a crash.
The upside of this, though, is your pet is freer than, say, in a confined pet carrier or small cage.
If your dog is uneasy in this sort of setting – or you're training your dog to be able to travel – then a seatbelt harness will help keep your dog relaxed the most out of our three options.
2. Using a Pet Carrier
Perhaps the most traditional way of transporting dogs in vans.
We've all seen what a pet carrier looks like.
They're small, lightweight and provide great mobility when transporting your pets.
However, like with seatbelts, the mobility benefits mean you sacrifice some level of protection.
A lot of the stereotypical plastic crates don't have any latches to fix it securely to the vehicle.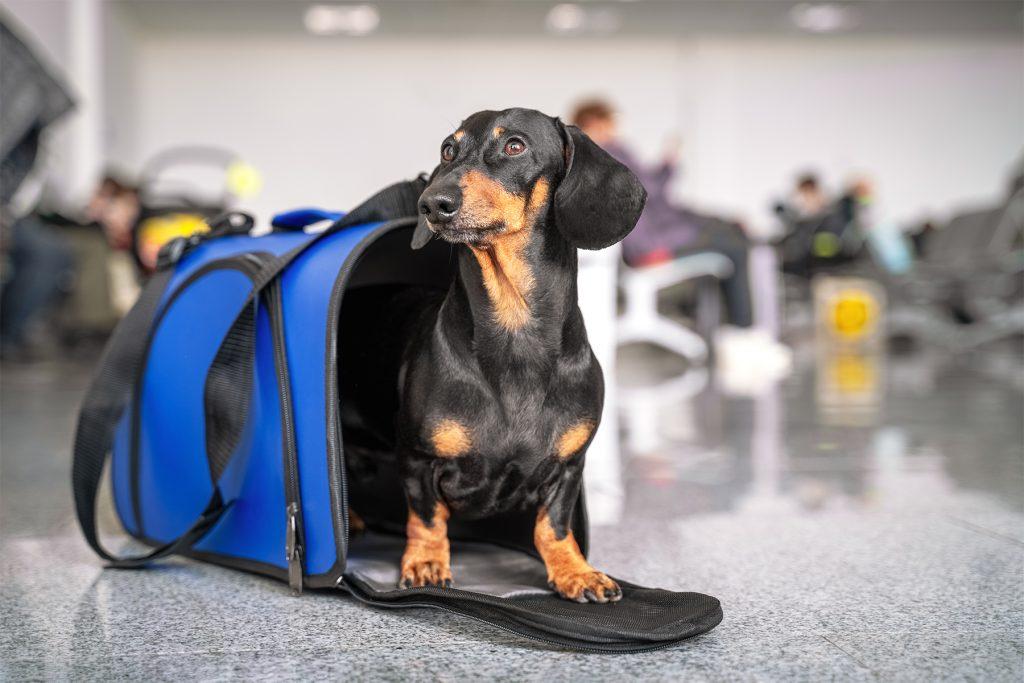 This means you risk your dog being tossed around when manoeuvring sharp turns or accelerating at high speeds – which will ultimately make them uneasy or frightened.
A lot of pet carriers are small – almost too small.
If your dog's a seasoned passenger and isn't bothered by being in a confined space when travelling, then this may be less of an issue.
However, if your pooch gets nervous in these types of conditions, or isn't used to travelling long distances, this could be a problem.
After all, the comfort and well-being of your dog are most important.
3. Purpose-Built Dog Cages
Purpose-built steel cages are by far the most secure way of transporting dogs in vans.
The animal transport and mobile pet care industries are booming. Which means vehicle converters specialising in animal transport (like ourselves) are busier than ever.
These types of cages are built with stainless steel or other durable materials, meaning your animals are truly protected.
Dog cages for vans come in all different shapes and sizes depending on your needs.
At Vantastec, we also manufacture tailor-made cages specific to our customers' requirements – we've even made cages for cars!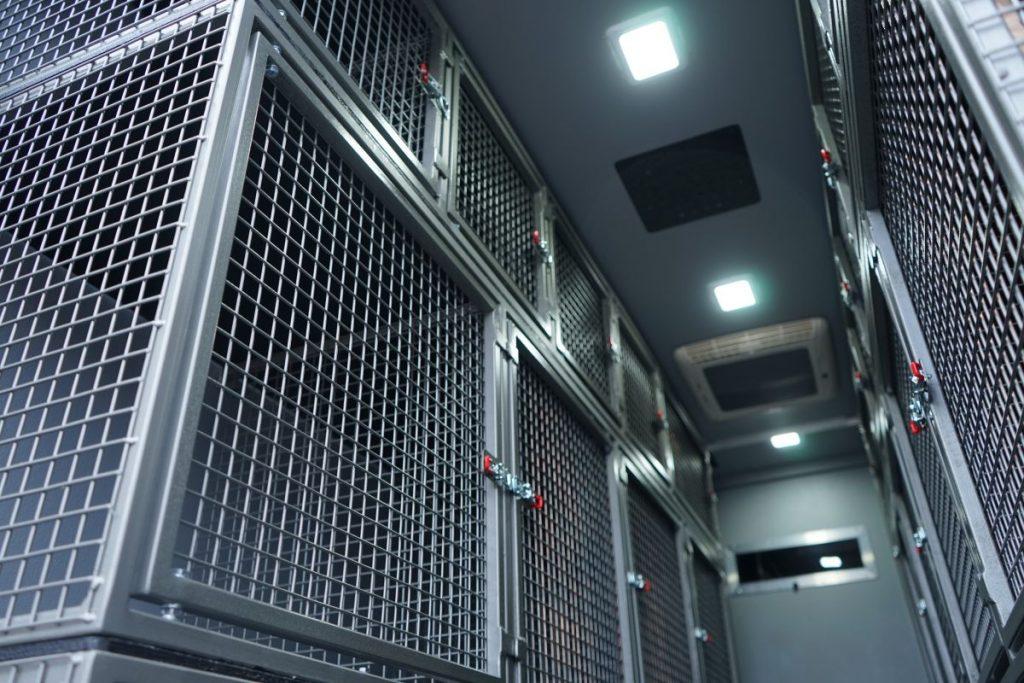 Whether you're looking for a single cage to house a small dog or 32 cages with varying sizes – the possibilities are endless!
The downside of this, however, is your furry friend won't be able to accompany you in the cab.
Typically, these types of cages need to be fixed in the vehicle's load area, arranged near the side-loading door or rear doors depending on the driver's requirements.
This might mean less storage space in the back of your van, but you can rest assured knowing your pets are well-protected from any accidents. 
If security or protection is your main concern, purpose-built steel cages are by far the best way of transporting dogs in vans.
If you're looking for some more information on our bespoke-built dog cages, visit our dog van conversions page today. 
Training Your Dog for Van Travel
Safety should always come first – but ensuring your animals are comfortable while travelling is also important.
Dogs Trust has put together a handy checklist of things you can do to make your pets more comfortable on the road.
Here are just a few of those points:
Making the Van an Enjoyable Place to Be
Use your dog's favourite treats and reward them for being calm when near the van. You could even start by simply walking around it.
Then, reward your dog again when you're opening the door and invite them inside.
Taking It One Step at a Time
Your dog may not be used to being in small, confined spaces for long periods – especially while moving at high speeds.
Dogs can easily feel trapped and panic in these situations.
Travelling on the road can be a sensory overload for dogs. The sights, the sounds, the movements; it's easy for animals to get frustrated because they can't interact with the outside world.
They'll need to get accustomed to it slowly.
Start by giving them their favourite treats when the van starts up, and begin with slower, shorter journeys to gradually get your dog used to travelling.
Make travelling a pleasurable experience for your dog so they'll want to come back for more.
If Your Dog is Struggling…
Like humans, dogs get car sick too.
According to VCA Animal Hospital, the telltale signs if your dog is experiencing sickness while travelling are:
Whining
Pacing
Excessive drooling
Lethargy or inactivity
Vomiting
If you think your dog has any of these symptoms, stop your van and take them for a walk to ease their stress.
Although, dogs can still be frightened or distressed while travelling even if they don't show signs of sickness. 
If this is the case, never force them to travel and make alternative plans.
Conclusion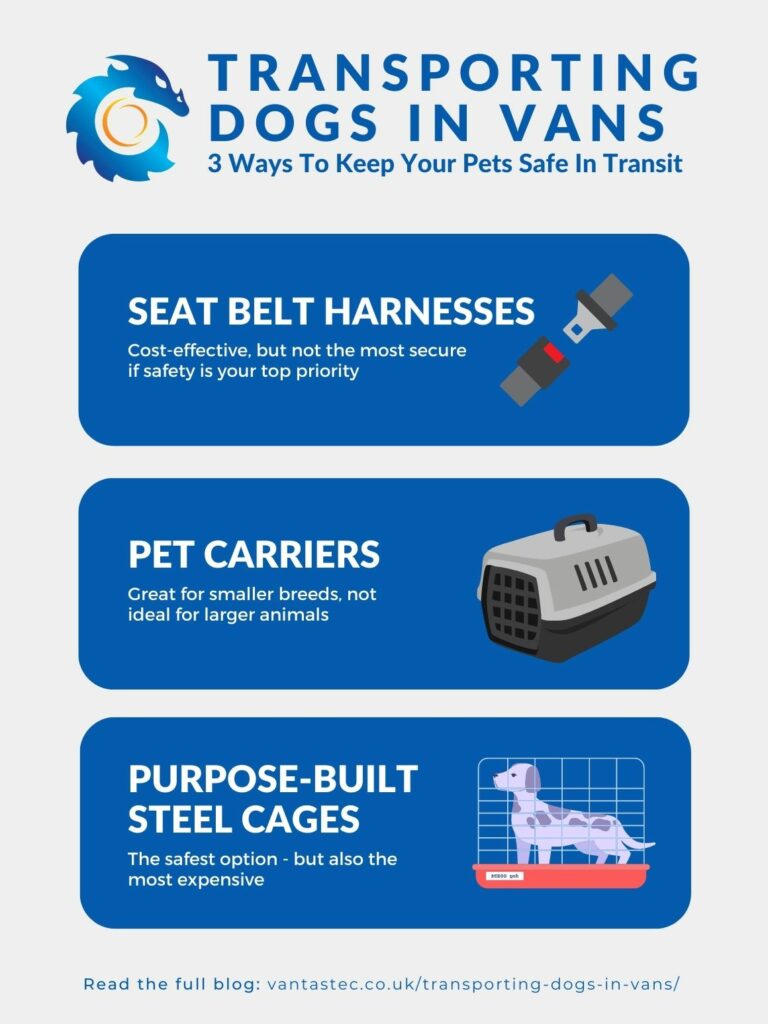 So that concludes our brief overview of some simple ways of transporting dogs in vans safely and securely.
Now, we'd like to hear from you. 
Do you have any tips for keeping fellow van drivers safe?
What topics would you like to see us cover?
Let us know in the comments.
Read Next: