What Are The Best Refrigerated Vans To Buy In 2023?
Choosing the best refrigerated vans can be crucial for your business.
Get it right, and you will be in full flow. Get it wrong, however, and you may just waste thousands of pounds.
Buying a refrigerated van can be daunting, especially if you have no idea where to start.
Refrigerated vans come in all shapes and sizes, each being used in different ways for different businesses.
Meat wholesalers supplying hundreds of restaurants and retailers will need a larger van to help deliver large volumes of stock with 100+ drops per day.
Meanwhile, a bakery specialising in bespoke cakes may only require a small vehicle because their cargo is smaller, and they won't be doing has many drops.
Researching your options, comparing manufacturers, vehicle dimensions and so on can be time-consuming. And, in business, time is money.
That's why we've put together a simple, straightforward list of seven of the best refrigerated vans you can buy in 2023.
Here are all of the models we'll be breaking down:
Peugeot Partner
Peugeot Boxer L1H1
Nissan Primastar
Ford Transit Custom
Peugeot Boxer L3H2
Ford Transit
Renault Kangoo ZE (Fully-Electric)
*Disclaimer: All pricing figures and after-conversion dimensions and payloads are correct at the time of writing and may be subject to fluctuation*
Your Van Is Only As Good As The Conversion In It
Before we get started, let's get one important point out of the way: your refrigerated van's performance is only as good as the conversion you put in it.
If you spend £30,000+ on a high-spec vehicle but kit it out with a cheap refrigeration unit and poorly-made insulation panels, you're not going to get the most out of it.
First and foremost, make sure the conversion on your van is up to scratch.
At Vantastec, our fridge van conversions are built with seam-free, leak-proof insulation panels and the best refrigeration units for light commercial vehicles on the market. This ensures unmatched durability and performance, suitable for even the toughest jobs.
With that disclaimer out of the way, here is a breakdown of the seven of the best refrigerated vans you can buy for your business in 2023:
Peugeot Partner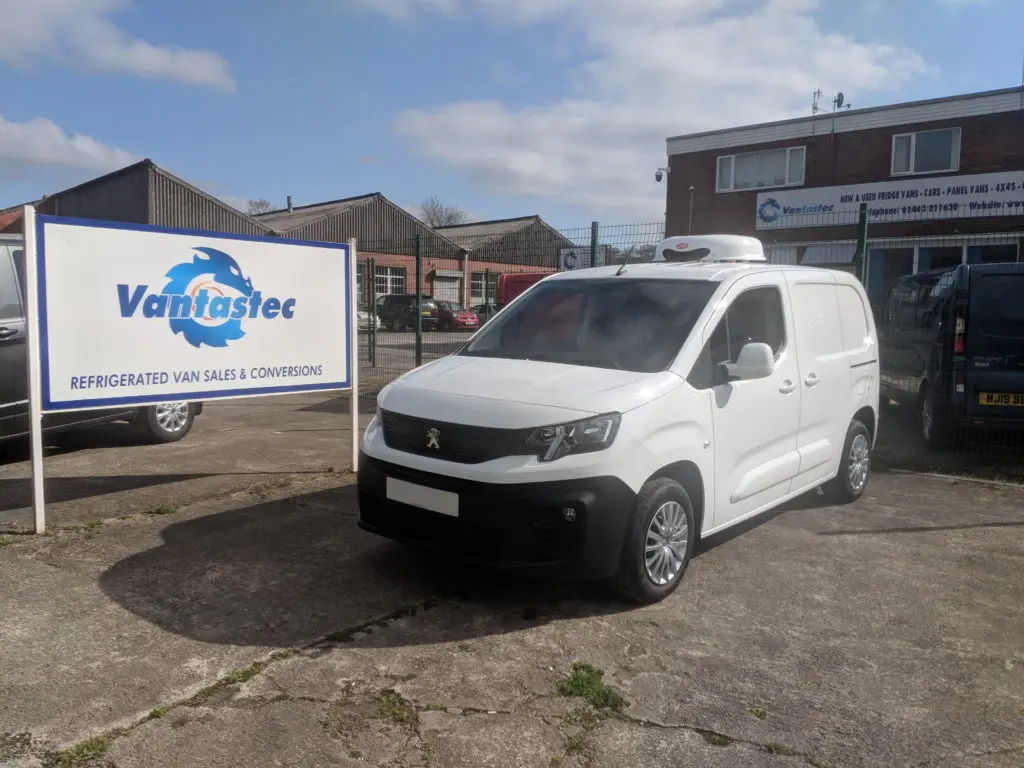 Let's start things off with a bang.
The Peugeot Partner has been one of our best-selling refrigerated vans in recent years. For a number of reasons.
Firstly, it's the perfect entry point for anyone starting out in refrigerated transport. If you're looking to add delivery options, or even transport goods cross-country, getting a Peugeot Partner can be a great way of growing your business. Providing you don't need a larger-sized vehicle, of course.
When you take into account van finance options, that price becomes even more appealing.
Plus, having a smaller vehicle means it takes up less space, leaving more room in your yard or warehouse.
You could even park it on your front drive!
If you need something slightly bigger, Peugeot also makes a long wheelbase Partner that provides roughly an extra foot of load space after conversion.
Peugeot Partner Refrigerated Van Dimensions And Payload After Conversion
Length: 1517 mm
Height: 1090 mm
Width: 1180 mm
Payload: 490 kg
You should choose the Peugeot Partner if:
You are new to the fridge van world
You are launching a delivery service for your business or bringing transport in-house
You need a new refrigerated van but have a limited budget to work with
Peugeot Boxer L1H1

This pick might be slightly outside the box, but hear us out.
Typically, when you hear someone say 'Peugeot Boxer', you think of a large-sized van in either a medium or long wheelbase.
However, Peugeot also makes an L1H1 variant, which turns out to be quite the powerhouse.
Size-wise, it's comparable to a Ford Custom or Nissan Primastar. But there's one area, in particular, where the L1 Boxer has the upper hand over these models: payload.
The L1H1 variant inherits a similar payload to the bigger models –  a whopping 1250kg after-conversion (without overnight standby).
Priced at just £26,295++, L1H1 Peugeot Boxers are the best refrigerated vans for businesses looking to transport fewer – but heavier – goods.
L1H1 Peugeot Boxer Refrigerated Van Dimensions And Payload After Conversion
Length: 2390 mm
Height: 1480 mm
Width: 1310 mm
Payload: 1180 kg with overnight standby / 1250 kg without
You should choose the L1H1 Peugeot Boxer if:
You who need a medium-sized van with a very good payload
You are looking for fantastic value-for-money
You prefer boxy-looking vans with generous load areas
Nissan NV300/Primastar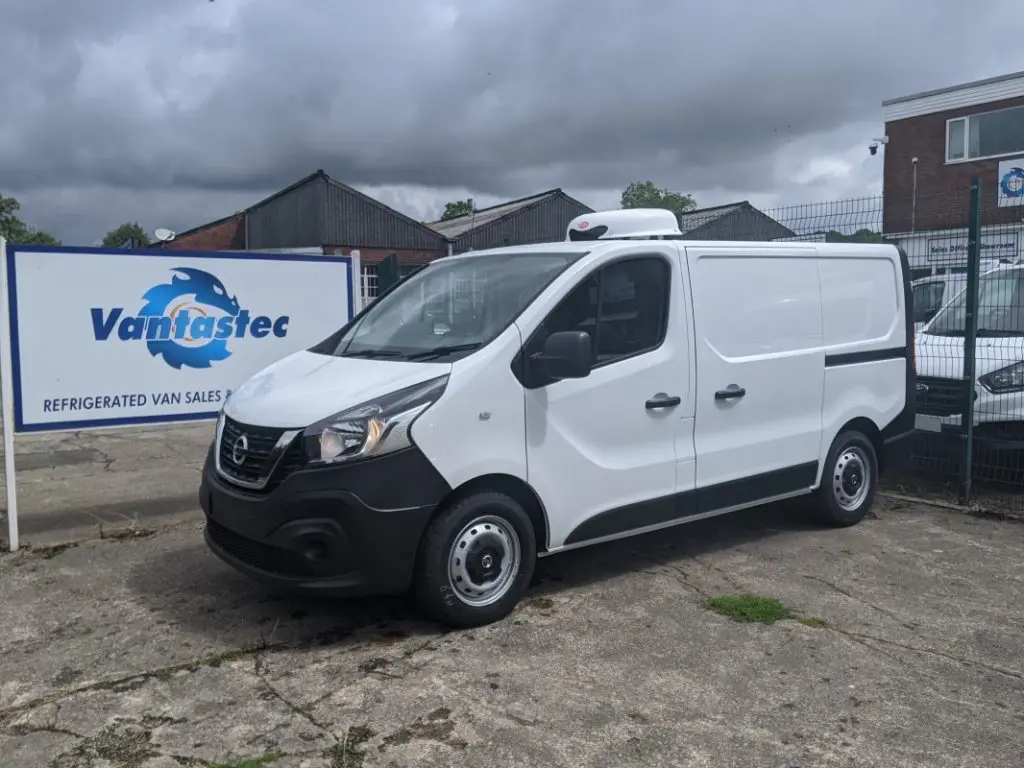 Just to clear up any confusion: Nissan has recently changed the names of their LCV models back to what they were in the pre-NV era.
The NV250 is now the 'Townstar', the NV300 now the 'Primastar' and the NV400 now the 'Interstar'.
Let's break down Nissan's medium-sized offering, the Primastar.
Fans of the Renault Trafic might think this option looks awfully familiar – and you'd be right!
Nissan's Primastar takes a similar shape to the Trafic but comes with one key advantage: a better manufacturer's warranty.
All brand new Nissan vans come with an impressive five-year or up to 100,000-mile warranty. Meanwhile, Renault's LCV range only comes with a three-year or up to 100,000-mile warranty.
So, if you're torn between the two, it's a no brainer.
Priced at just £23,875++, it also serves as a valid, more cost-effective alternative to the Ford Transit Custom.
But more on the Ford Custom later…
Nissan Primastar Refrigerated Van Dimensions And Payload After Conversion
Length: 2200 mm
Height: 1260 mm
Width: 1460 mm
Payload: 737 kg
You should choose the Nissan Primastar van if:
Your main priority is aftercare from manufacturer's warranties
You specialise in multi-drop deliveries with smaller cargo
You need a cheaper alternative to the Ford Transit Custom
Ford Transit Custom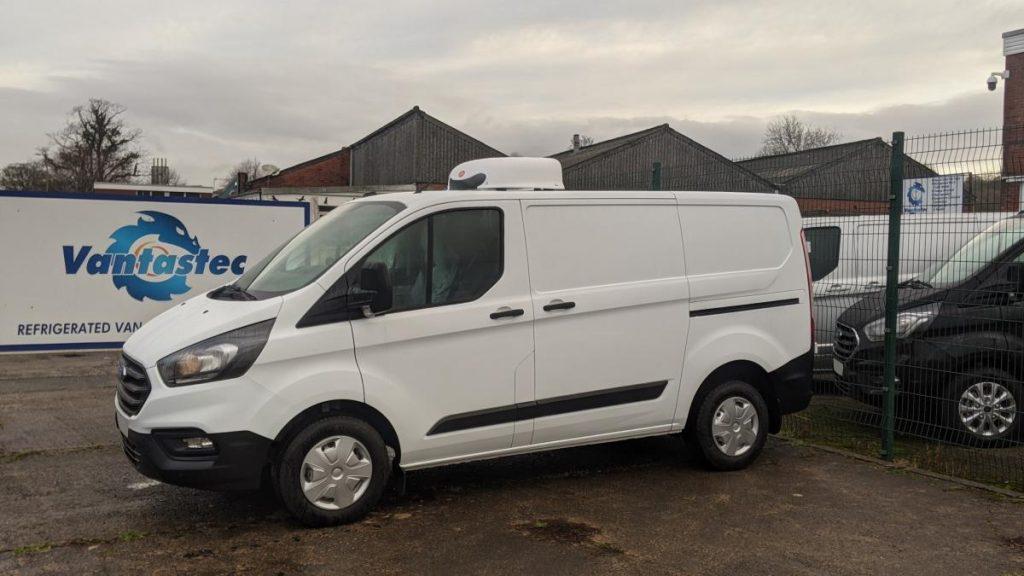 One of the most iconic and widely-recognised van models in the world, Ford's Transit Custom is an industry leader for a reason.
Panel vans, crew vans, minibuses, camper vans and everything in-between. Van users of all kinds are choosing the Transit Custom.
Ford's van provides high-end performance similar to that of a Volkswagen Transporter, but at a much more appealing price.
Its drivability is also unmatched, delivering a sublime driving experience that almost feels like you're in a car!
Transit Customs are also vastly customisable, available in a range of sizes, specifications and trims. The chances are you'll be able to find the right for you.
If you're looking for a medium-sized refrigerated van, Ford Transit Customs are one the best refrigerated vans you can buy.
Check out a full walkaround of one of our Ford Transit Custom fridge vans below:
Ford Transit Custom Refrigerated Van Dimensions And Payload After Conversion
Length: 2335 mm
Height: 1270 mm
Width: 1550 mm
Payload: 720 kg with overnight standby / 760 kg without
You should choose the Ford Custom if:
You are looking for a superb drivability
You enjoy in-cab features designed for comfort and functionality
You need a premium medium-sized van at a not-so-premium price
Peugeot Boxer L3H2
Our first large-sized option is the Peugeot Boxer L3H2 variant.
For big fleet operators in need of a long wheelbase van, you'll struggle to go wrong with an L3H2 Peugeot Boxer.
Boxers are considerably cheaper than other large vans on the market. This means big fleet businesses operating 10 or more vans at a time can save a lot of money when they change out their vehicles.
They also feature very generous load areas. The L3H2 variant's dimensions have enough room to comfortably house three standard euro pallets.
Being able to carry such large volumes of stock means more deliveries per vehicle. Therefore, maximising efficiency.
For the reasons mentioned above, it's no surprise the Peugeot Boxer is a favourite among our fleet customers.
L3H2 Peugeot Boxer Refrigerated Van Dimensions And Payload After Conversion
Length: 3430 mm
Height: 1760 mm
Width: 1600 mm
Payload: 1,100 kg 
You should choose the Peugeot Boxer van if:
You need to comfortably transport three standard euro pallets in one vehicle
You're looking for a cheaper alternative to the Ford Transit
You're a Fleet Operator who needs value-for-money long wheelbase vans
Ford Transit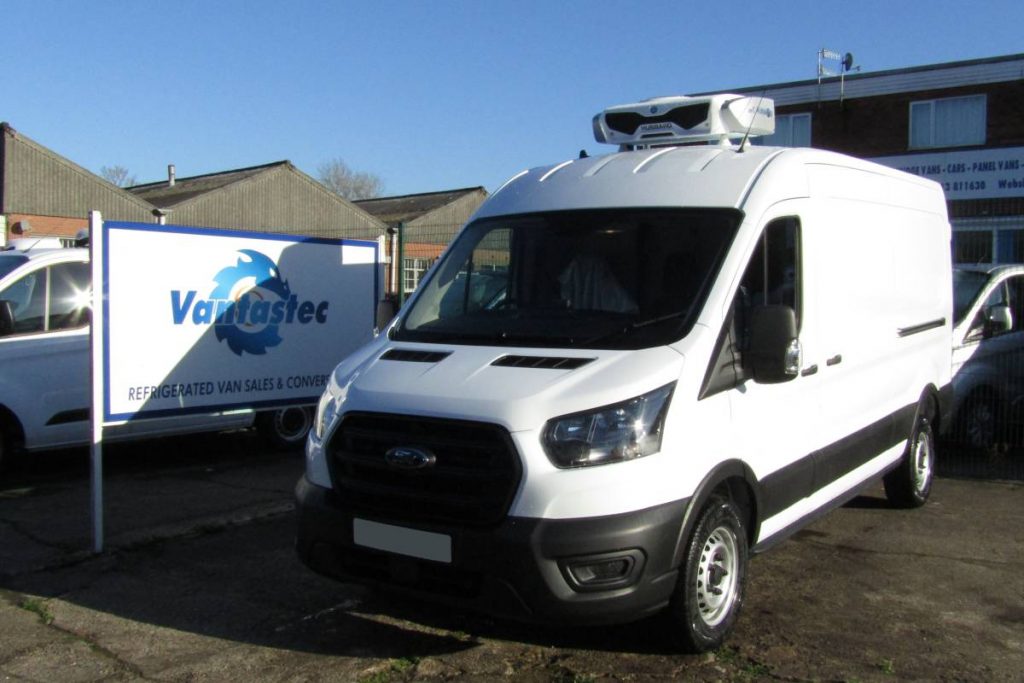 The Transit name is easily the most recognisable in the LCV industry.
As a brand, it's grown far beyond the van world.
Similar in size to a Peugeot Boxer, Ford's Transit offers a true powerhouse of a large-sized van that's ideal for businesses looking to transport high volumes of stock.
However, if you've got more money to spend and are looking for a more premium vehicle, the Ford Transit gets our pick.
Like the Transit Custom, the Transit's superb drivability offers premium performance at a not-so-premium price.
If you're in need of something big and have a bit more to spend, the L3H2 Ford Transit is one of the best refrigerated vans for you.
Ford Transit Refrigerated Van Dimensions And Payload After Conversion
Length: 3080 mm
Height: 1680 mm
Width: 1600 mm
Payload: 1,180 kg without overnight standby
You should choose the Ford Transit if:
You need reliable, powerful long wheelbase vehicles
You are looking for a superb driving experience
You don't mind spending more on quality vehicles
Renault Kangoo ZE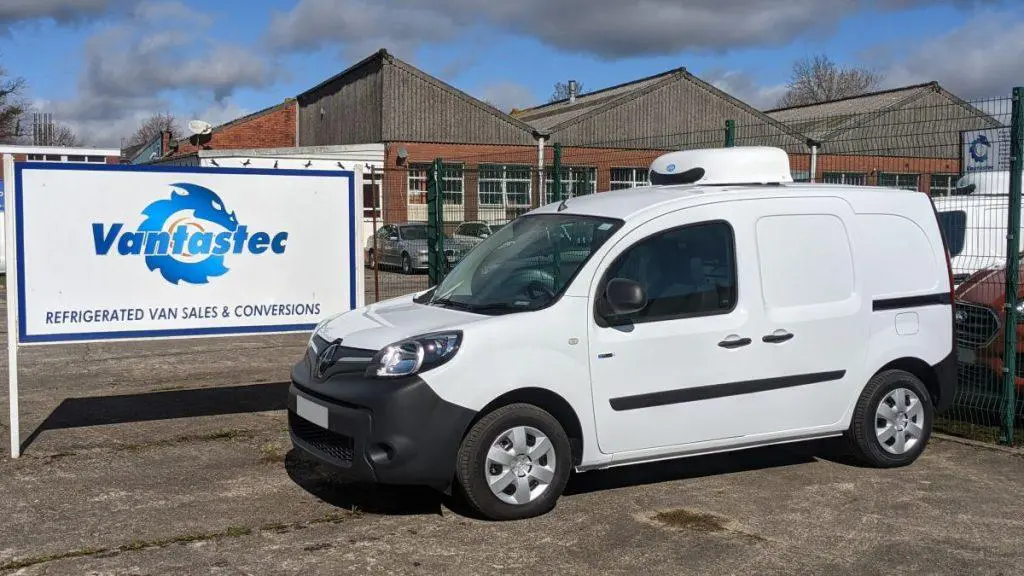 We've already written extensively about the benefits of electric vans and why your business should start looking towards the future. So, we simply had to include one of our favourite electric refrigerated van models.
If you've paid attention to the car world, you would have noticed most manufacturers are beginning to release electric or hybrid editions of their best-sellers. This is becoming the standard.
The same can be said for the van world.
Ford, Renault, PSA and more have already either released or announced electric-powered versions of their iconic van models.
Renault's Kangoo ZE is a fantastic option for businesses keen on taking the first steps in transforming their fleet to join the green revolution.
According to Renault's official figures, the vehicle's battery has a range of 120-200km depending on temperature conditions and the weight of cargo being transported.
This makes it ideal for businesses in urban areas affected by Clean Air Zones or Ultra Low Emissions Zones with lower daily mileage.
So, if you're a city-based business interested in dipping your toes into the world of electric vehicles, Renault's Kangoo ZE could be one of the best refrigerated vans for you.
You should choose the Renault Kangoo ZE if:
You're affected by CAZ or ULEZ charges who want to reduce operating costs
You smaller, more agile vehicle for shorter, multi-drop routes
You are looking to drastically reduce their carbon footprint
7 Things To Consider When Choosing The Right Refrigerated Van
Whether you're an already-established business upping your efficiency or a new start-up entering the world of refrigerated transport for the first time, choosing the perfect refrigerated van can be difficult.
Vans come in all shapes and sizes. This makes finding the perfect one tricky in itself, let alone when you add refrigeration.
Vantastec has over 13 years' of experience in refrigerated van and temperature-controlled conversions. In this time we've gathered some crucial expertise, and today we'll be putting that expertise to use by giving you seven useful tips when comparing refrigerated vans.
Which Size Vehicle Do I Need?
In the light commercial vehicles sector, van sizes can be put into three different categories: small, medium and large.
Smaller vehicles – such as the Peugeot Partner or Ford Transit Connect – feature payloads of approximately 400-420 kilograms and load spaces of around 1750mm in length (L1 models, fully-converted).
Meanwhile, larger vehicles such as a Peugeot Boxer or MAN TGE offer much larger payloads of 1180kg and load spaces of around 4015mm in length (for L3 models).
For an in-between option, medium-sized vans such as the Ford Transit Custom or Nissan Primastar are good middle ground, and tend to be the most popular.
The size of the vehicle you would need depends on three different factors:
What you plan on using the vehicle for

What sort of goods you plan on transporting

The quantity and size of the goods you will be transporting
These three points may seem obvious. But it's important to note that each need to be considered with your business, and its needs, in mind.
Let's use point number one as an example: Will you be using the van for multiple drops in a smaller area, or for single-drop A-to-B deliveries?
For example: in our experience, businesses such as wedding cake providers tend to go for smaller sized vans because they'll only be transporting several (at most) cakes per delivery. Whereas businesses such as milk suppliers may need room for multiple pallets of stock, so a larger vehicle is required.
Finding the perfect sized van is crucial. You want one big enough, so you're running as efficiently as possible, but you don't want to overcompensate and be left with a van you're not making the most out of as it might impact your business' cash flow.
How Many Times Will You Need To Open The Doors?
The number of times you will need to open your van's rear and side-loading doors also impacts what van you will need to buy.
In fact, this factor also ties into the size of the vehicle.
Some businesses – such as the milk supplier example we used earlier – require multiple multiple drops per day, which means the number of door-opens throughout the day increases.
Refrigerated vans where the doors will be opened frequently will need to be fitted with refrigeration units that can cope with a high number of drops per hour.
Our sales team will always take your requirements into account when guiding you on which fridge van will suit your requirements best. If you have a question about drops per hour or any of the other topics discussed in this guide, please get in touch.
Manufacturers Warranties: How They Can Help And How They Differ
Another factor that's important to consider when choosing your refrigerated van is the warranty that comes with the van itself. The benefit of buying a new van overused one is that you reap the rewards of having the full manufacturer's warranty.
Whereas say, for example, you're buying a van that's two years old, you're losing two years of the original warranty than if you bought it brand new; and that's if it hasn't exceeded the mileage limits.
All of the manufacturers we use provide their own warranties. Here are some examples from some of them:
Ford: 3 years or up to 100,000 miles
Renault: 3 years or up to 100,000 miles
Peugeot: 3 years or up to 100,000 miles
MAN/VW: 3 years unlimited miles
Nissan: 5 years or up to 100,000 miles
Let's use the same example as choosing the size of the vehicle. For a business that tends to deal with single-stop, long-haul A-to-B drops, MAN/VW's warranty might suit them best because of the unlimited mileage.
Meanwhile, companies based in city centres with multiple drops a day might benefit most from Nissan's warranty because it lasts longer, and they might not meet the mileage limits.
It's also worth noting that if you're buying a new refrigerated van, the refrigeration unit itself will also come with a manufacturer's warranty – subject to service intervals.
These days, nearly all manufacturers tend to include warranties with brand new vehicles, but it's important to consider which one is right for you – or if you're getting one at all.
The Engine
As you can imagine, different vehicles come with different engines. Not only different sizes, but different types.
Engine size, often called 'engine capacity' and 'engine displacement', is the total volume of the engine's cylinders. The bigger the engine's size, the more space there is inside it for fuel and air.
Typically, larger engines mean more power. Although, new technologies and turbocharged engines in the last few years have meant that smaller engines – like the Peugeot Expert's 1.6-litre engine – now pack much more of a punch.
Don't get us wrong, though, 2.0-litre engines are also fantastic (the Ford Custom drives like a dream). But technology these days is so advanced there isn't really a 'bad' van on the market.
Am I ULEZ Compliant?
More and more areas across the country are introducing penalties for drivers using older vehicles because of the damage they cause to the environment.
London's introduction of their Ultra Low Emission Zone can be seen as the first major step in the green revolution.
Vans with engines dating before Euro 6 now face financial charges when entering the ULEZ. Thankfully, all brand new vans are now fitted with Euro 6/6.2 engines.
For 100% zero-emission vehicles, you may even want to opt for a fully electric van.
Either way, buying a new vehicle compliant with ULEZ standards is the perfect way to future-proof your fleet and save money.
Should I Finance My Refrigerated Van?
Different businesses have different financial circumstances. Some may be able to buy their new van outright, others may only be able to afford a deposit.
With the evolution of van financing, more businesses – and personal users – are able to afford the van of their dreams.
Our finance providers allow for a range of funding options, business leases, hire purchases, zero deposit deals and more.
Being able to afford to buy a van is great – if you can afford it. But for startups and big fleet companies, finding the right finance plan to spread the cost of your van can be a blessing.
Does Your Business Have Any Unique Requirements?
We deal with vehicle conversions of all shapes and sizes. This means we are able to customise your refrigerated van to suit any specific needs you may have.
Added extras such as meat hooks, overnight standby, thermal curtains and shelving units can be a great way of upgrading your van. They could prove crucial in helping your business run more smoothly.
But we can also tailor-make conversions for your van as well. Whether it's a specific temperature range you're looking for, a split load space to allow both chilled and frozen transport, or whatever your needs may be, we can help.
Contact our van conversions experts to find out more about our tailored conversions.
Conclusion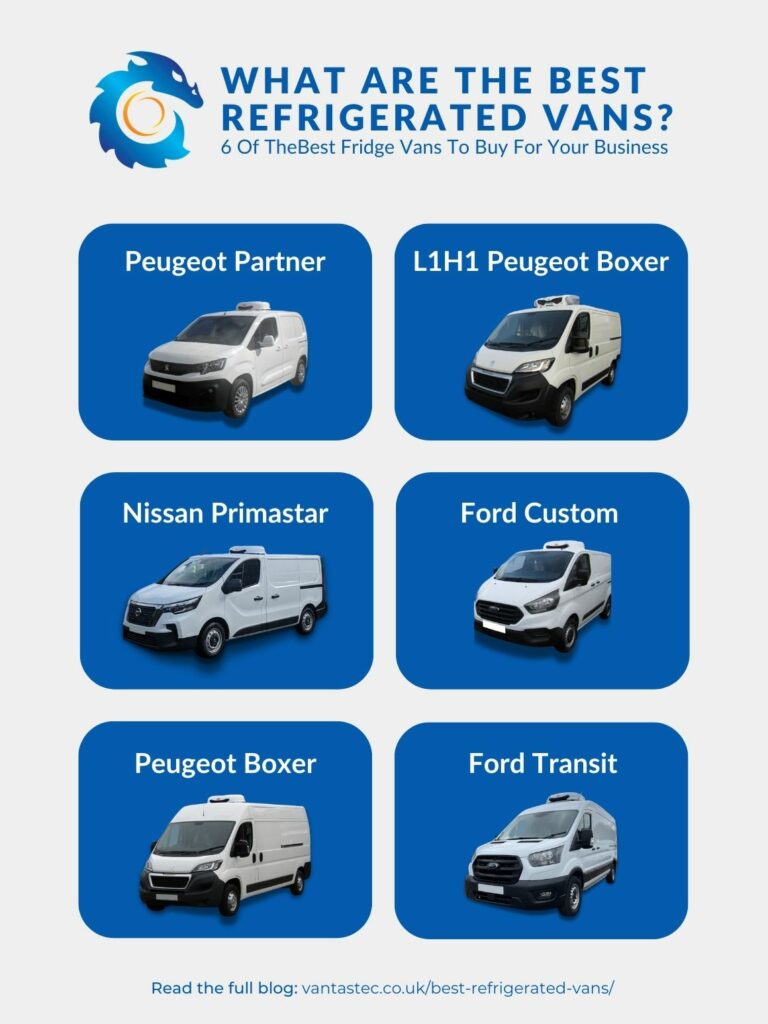 So, that was our list of seven of the best refrigerated vans you can buy in 2023.
Choosing a van can take up a lot of time and effort, especially when also trying to juggle the day-to-day operations of your business.
Hopefully, this post has helped narrow down some of your options.
If you'd like to compare your options further, feel free to check out our full range of refrigerated vans for sale.
Alternatively, if you have any further questions you'd like us to answer, feel free to leave them in the comments section below.
Take care, everyone!
Read Next: