Chris' Story:
Macmillan Cancer Support is leading Brave the Shave – a campaign encouraging people to raise money by shaving their heads in solidarity with those currently going through cancer. On the 4th of July, Vantastec's very own Chris Taylor will be taking part to raise money for this incredible cause in memory of his mother. Read his story below and why it means so much to him.
My mum was one of those special ladies that always had a smile and a good word for everybody.
Macmillan and Mum
The Macmillan nurses were there for mum and our family. Mum was terminal; she had been ill for twenty-odd years. For about 15 years mum had suffered from MS and she was gradually getting worse, in 2004 she become ill the doctors put it down to MS. For three years, mum bounced between Rockwood, Llandough, Heath and Barry Community hospital. I can probably count on my hands the number of weeks in those three years that she was actually home. Even after two investigative operations they couldn't find what was wrong. Then they finally found it! Cancer in the late stages.
They sent her home in the October with the Macmillan support saying she had a few months to go. Mum was with Macmillan from October to January. She came home early October, saw Christmas and New Year through with the grandkids and passed on the 5th of January, 2007. The nurses were there all the way through and they were there at the end, holding dad's hand. They even came and checked on dad in the week or so afterward. They were fabulous, they were really lovely people.
As for most people I don't remember much of the funeral, but I vividly remember the back two rows on the one side of the packed church were just nurses, various people from the hospitals mum had stayed in over the latter years, mum had always been placed in the same wards with the same nurses. These amazing people had taken the time out of their working days and lives to come and pay their respects to mum.
A fantastic mother
My mum was one of those special ladies that always had a smile and a good word for everybody. People would come round and she would chat to them about their problems. She always seemed to say the right things and people would leave with their own smile back. All the nurses loved her. Whenever she was in a hospital she always making new friends. She was just one of those special people that everybody loved and cared for. They say they always take the good ones first and that was my mum.
She'd do anything for anybody. If anyone came round, it would be a big smile, hug and put the kettle on. Everyone was welcome. It was a big loss for us, it was the biggest thing. She would have made a great grandmother, but unfortunately she never had the chance. From when my kids and my brother's kids were born, she was bedridden. I miss her. It's been eleven years now, and still every day I miss her.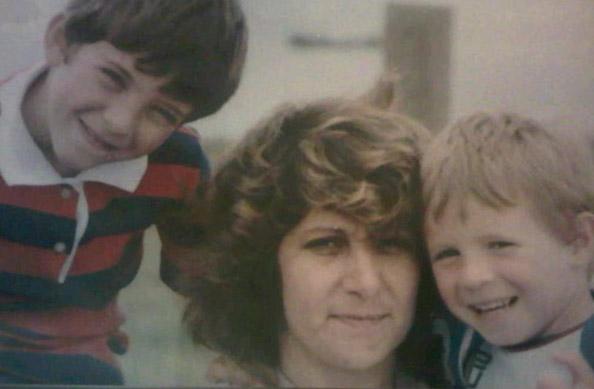 Brave the

 Shave
Unfortunately, I missed out on a charity skydive the company had arranged and I'm not fit enough to do a marathon at the moment, so I thought, 'what else can I do?', and Brave the Shave popped up on my Facebook.
It will be the first time ever that I've consciously gone for a full short haircut. I've never, ever had my hair shorter than a flat-top. Usually, it's spiked. I've grown it out, but usually I have a two, short back and sides. It's nerve-wracking! After today – especially this morning after seeing the donations come in – I can't back out of this now! Plus I've said I'm going to do it in work time as well, obviously, that means even if I run, they're all going to come after me with the clippers.
I just want to give something back to Macmillan. After losing my mum, I dropped sales and went into care the industry for a year to give something back to the community. Seeing Brave the Shave for Macmillan as well, it's the right charity for me, so I've signed up, waiting for my T-shirt to come! I went for it quite quickly as well, I haven't dragged this decision out for months or anything like that. I haven't gone for a large target, if everyone drops in a fiver in or something like that, then it's all good! There's a line of people waiting to shave my head. I haven't grown it out that much, but it's probably the longest it's been for a while.
Donate!
Chris will be braving the shave on the 4th of July. Any and all donations would be gratefully received by Macmillan Cancer Support. The results of Chris' shave can be found in our follow-up blog post.
Summary
Event
Location
​
Vantastec Ltd

,

Unit C, 6 Coopers Court, Caerphilly Road

,

Ystrad Mynach

,

Caerphilly

-

CF82 7EP
Starting on
Ending on
Description
Chris shaves his hair in aid for Macmillan Cancer Support
Offer Price