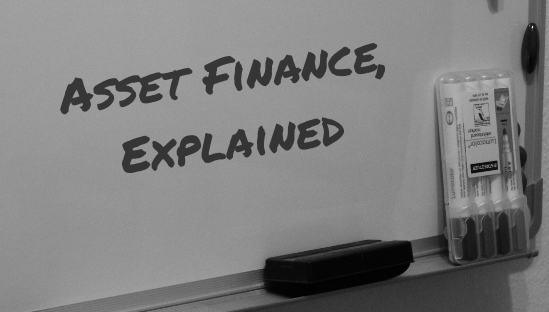 Asset Finance: A Complete Guide
Asset Finance Definition: A Complete Guide For 2023
It's Finance Friday and we're here to give you a simple asset finance definition and explain the ins and outs of how it works. It's also not specific to vehicles. In fact, you can finance a whole manner of things!
What Is Asset Finance?
Let's kick things off by giving you a straightforward asset finance definition: Instead of paying the product off in full, asset finance is a method of leasing that grants you the right to use the equipment that you need in exchange for regular payments. The finance company owns the asset, and you would pay the asset's value over time while you use it while on the lease.
Think of it like this: you might not have the full amount right now, but you will eventually over time. The only difference is, you get to use the asset immediately instead of saving up to buy it outright.
Finance isn't just restricted to vehicles either; there are lots of things you can obtain on finance. Here at Vantastec, we only deal with vans and conversions, but even if you're a business that needs to upgrade their IT department or a catering company in need of kitchen equipment, you can find someone to help finance the things you need.
What Else Do I Need To Know?
If you're looking to buy a vehicle, asset finance provides the money and repayments are collected from you over an extended period which means your working capital and cash-flow can be used to grow your business.
The money is also secured against the asset itself and not against property. This means if you became unable to pay the agreed amounts each month, the finance company would take the vehicle back.
Whilst there are numerous different types of legal agreement, they all fall into one of two categories: leasing or owning.
For tax and accounting purposes, all forms of ownership are treated the same. VAT will be charged; if it's on the purchase price of the vehicle this means that you will own it for tax purposes. If VAT is charged on each payment, it's considered a lease.
What Are The Benefits Of Asset Finance?
In business, cash is king. When you pay cash for a fixed asset, it can put a strain on cash-flow. By financing your asset, you have more cash left in your business and more control over your finances.
Buying large purchases outright or putting them on your overdraft means you have less cash (working capital) to pay for the expansion of your business, staff, and advertising etc. – all the things that can't be financed.
Financing can also be really flexible; along with payment plans to best suit you, there are also options to continue the lease for small fees or even obtain capital or own the asset itself.
It's worth noting that as you're paying the lease over time, you'll pay more over time than if you had bought it outright.
ID Requirements For Asset Finance
Proof of ID
Other than the obvious of a current UK or EU passport or driving license, did you know you can also use the following?
Copy of old paper style license
We said a fond farewell to the old paper driving license in 2015, but if you still have yours, we can use it for ID. It's also still valid if it was issued before the 31/03/2000, so 18 years on, we're happy to accept it as proof of ID.
Current Shotgun License
Boom! Bet you didn't think of this one, did you? If you've got a license for your firearm, we can accept it as a form of ID.
Proof of Address
The following can be used as proof of address, but watch out for time frames! We've listed them from shortest to longest:
Utility Bill or Bank Statement, not older than 3 months
HM Revenue and Customs notification, coding or demands,
less than 6 months old or dated within the current financial year (April to April), showing the given address
Current Annual Council Tax bill showing the given address,
not older than 12 months.
Conclusion
Different individuals/businesses have different requirements. There's never a true right or wrong option when it comes to choosing finance or purchasing a vehicle outright, so we want to make sure you have all the information readily available to make the right decision for you – after all, no one knows your business better than yourself!
Hopefully, we've provided a useful asset finance definition that's easy for you to understand. If you're giving finance some consideration, have a look at some of our other blogs for more insight, including a breakdown of finance lease vs hire purchase, how to attain finance as a new business, and how to get van finance with poor credit.
Related Posts: