Greater Manchester Clean Air Zone: A Complete Guide For Van Users
The Greater Manchester Clean Air Zone has been officially announced and will be rolled out from May 2022.
Joining the likes of Bath, Birmingham and London, Greater Manchester has become the latest area in the UK to unveil plans for improving air quality within the region.
Clean Air Greater Manchester is the initiative spearheading the green revolution up north, looking to replicate the ongoing success of London's Ultra Low Emissions Zone.
Low emission zones have been a hot topic in the light commercial vehicle sector recently. Announcements for new zones are coming thick and fast, meaning van drivers need to get clued-up or it'll end up costing them in the long run.
Here is  everything you need to know about the Greater Manchester Clean Air Zone and how van users can make the most of it:
What Is A Clean Air Zone?
Before diving into the ins and outs of how the Manchester Clean Air Zone will work, let's start from the top: what exactly is a Clean Air Zone?
A Clean Air Zone (CAZ) is a designated area where proactive measures are being put in place to improve its air quality.
Clean Air Zones typically penalise those driving older, more polluting vehicles while incentivising road users to upgrade to newer, cleaner engines.
These penalties come in the form of a fixed charge for every time you enter the zone – similar to London's congestion charge.
Such measures are introduced for the benefit of both the area's residents and our environment.
According to European Environment Agency, 379,000 premature deaths in 2018 were attributed to fine particulate matter (PM2.5) in the 27 EU Member States and the United Kingdom.
PM2.5 is an air pollutant that typically comes from power plants, construction sites and – you guessed it – automobiles. It also contains microscopic solids or liquid droplets that are small enough to be inhaled and cause serious health problems.
EEA's findings tell us that only is pollution damaging our environment, but our health as well. And large gas-guzzlers have a major part to play.
How The Greater Manchester Clean Air Zone Will Work
Greater Manchester's Clean Air Zone is due to launch on Monday 30th May 2022 and will be in operation 24 hours a day, seven days a week throughout the designated zone (see a full map of the area below).
Owners of non-compliant vehicles will need to pay a daily charge via the government's online charging service which will be launched in conjunction with the rollout of the zone closer to the time.
Automatic number plate recognition cameras will be set up throughout the region to detect non-compliant vehicles and keep track of any outstanding penalties.
If the charge hasn't been paid, a penalty of £120 will be issued in addition to the original bill, reducing it to £60 if paid within 14 days.
Daily charges for non-compliant vehicles will vary depending on their size and the amount of harmful emissions they produce.
Here's a breakdown of the charges for each vehicle type per Clean Air GM's official website:
Buses and Heavy Goods Vehicles (HGV) – £60 (from May 2022)
Coaches – £60 (temporary exemption until 1 June 2023)
Taxis and private hire vehicles – £7.50 (from 30 May 2022, temporary exemption for Greater Manchester-licensed vehicles until 1 June 2023)
Light goods vehicles (LGV) such as vans and minibuses – £10 (temporary exemption until 1 June 2023)
For van users, there's good news.
Vans are temporarily exempt from charges until 1 June 2023. This means fleet operators and van users have just over a year longer to prepare and adapt to these changes.
This additional period will allow more time for manufacturers to master new, sustainable versions of their vehicles and reach the same performance levels as their petrol and diesel counterparts.
For electric vans, this could mean bigger vehicles with greater driving ranges and more charging points installed throughout the country.
This extra year could also mean more time to learn about other emission-free alternatives such as hydrogen.
Greater Manchester Clean Air Zone Area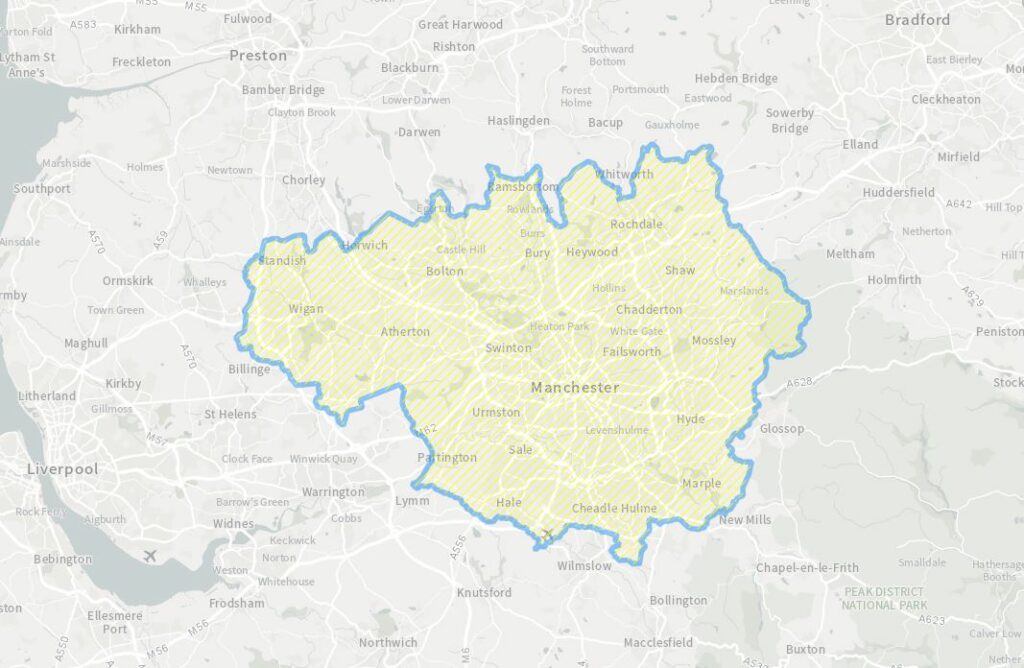 The Greater Manchester Clean Air Zone's coverage will match the administrative boundaries of Greater Manchester.
Clear signage will be situated upon entering the zone to allow drivers who don't wish to enter to find an alternative route.
However, the area will exclude motorways and other major trunk roads as they are managed by Highways England.
Is Your Van CAZ Compliant?
Now you know the ins and outs of the Greater Manchester Clean Air Zone, let's get down to the nitty-gritty of how it will affect van drivers – if at all.
The first step is finding out whether your vehicle is CAZ-compliant. If so, you won't need to pay any penalty charges.
As per Clean Air GM's official website, the following vehicles will need to pay the proposed £10 daily charge from 1 June 2023:
LGVs and minibuses with a Euro 5 or earlier diesel engine (pre-2016)
LGVs and minibuses with a Euro 3 or earlier petrol engine (pre-2005)
If you're unsure whether your vehicle falls under these categories, check out Clean Air GM's official vehicle checker.
Clean Commercial Vehicle Fund
If your vehicle doesn't qualify as CAZ-compliant and you desperately want to avoid the daily charge, fear not.
Financial support will be available for businesses, people and organisations to either replace or retrofit non-compliant vehicles so you do not have to pay the daily charge.
£73.5m has been secured as part of a Clean Commercial Vehicle Fund in the form of grants for successful applicants.
Those who meet the eligibility criteria can apply for either of the following:
Up to £4,500 grant to replace an old vehicle with a compliant one
Up to £5,000 grant to retrofit existing vehicles to make them compliant
Access to vehicle finance, offering a zero per cent or low-cost loan up to £4,500
The most interesting aspect of the initiative is that nowhere on the Clean Air GM website does it mention the word 'scrappage'.
This means – at least from what we can gather from the information currently at hand – that, unlike London's ULEZ scrappage scheme, you won't even need to trade-in or scrap your old vehicle to access funding!
Applications for funding open in November 2021. Stay tuned to our social channels or sign up to our mailing list for more updates on applications as they come.
Why Are UK Clean Air Zones Being Introduced?
Clean air zones are put in place to reduce greenhouse gases emitted by older, more polluting vehicles, therefore improving overall air quality.
The list of reasons for why authorities want cleaner air is endless. Mainly, they want to protect the health of residents.
High levels of air pollution can cause health effects such as breathing problems, cardiovascular diseases, asthma, lung cancer and more.
According to the European Environment Agency, around 379,000 premature deaths in 2018 were linked to fine particulate matter (PM 2.5) – which primarily comes from vehicle exhausts.
The UK Government aims to make Britain a net-zero carbon emissions country by 2050. Introducing clean air zones in polluted urban areas could be a significant step towards achieving this goal.
Four Types Of Clean Air Zone
Different areas have different air qualities.
Larger cities like London with higher populations will emit more greenhouse gases than sparsely-populated ones like, for example, Exeter.
Here are the four main categories of clean air zone:
| | |
| --- | --- |
| A) |  Buses, coaches, taxis, private hire vehicles |
| B) |  Buses, coaches, taxis, private hire vehicles, heavy goods vehicles |
| C) |  Buses, coaches, taxis, private hire vehicles, heavy goods vehicles, vans, minibuses |
| D) |  Buses, coaches, taxis, private hire vehicles, heavy goods vehicles, vans, minibuses, cars, the local authority has the option to include motorcycles |
Clean Air Zone Charges
Penalties for entering the zone aren't compulsory. Authorities will only be permitted to set charges at levels to reduce pollution and raise revenue to recover no more than the initial costs.
In London, smaller vehicles that aren't ULEZ compliant must pay a £12.50 charge every time they use the zone, while the daily charge for larger vehicles such as lorries and coaches is £100.
Meanwhile, Bath introduced a CAZ in March 2021, with a charge of £9 for smaller vehicles and £100 for larger vehicles per use of the zone.
Costs are determined by the local authorities and vary from area to area.
The best way to find out exactly how much you'll need to pay is by checking the official UK Government website once your nearby CAZ is up and running.
If you're eager to start planning now for the introduction of a CAZ, we recommend reaching out directly to your local authority to keep up-to-date with all developments.
Minimum Emissions Standards
The heavier the vehicle, the higher the level of harmful emissions.
According to the European Environment Agency, heavy-duty vehicles such as coaches, lorries and trucks are responsible for 27% of road transport CO2 emissions – an increase of 25% since 1990.
Newer engines produce significantly less harmful emissions than older ones.
Research from Volvo found that a heavy goods vehicle with a Euro 5 engine emits 6.41kg of carbon monoxide in the space of six months. Meanwhile, a HGV with a Euro 6 engine emits just 0.64kg in the same amount of time.
Rather than a one-size-fits-all approach, the minimum requirements for clean air zone compliance vary depending on the size of the vehicle.
Here are those requirements:
| | |
| --- | --- |
| Vehicle type | Clean Air Zone minimum standard |
| Buses, coaches, heavy goods vehicles | Euro VI |
| Vans, minibuses, taxis, private hire vehicles, cars | Euro 6 (diesel) and Euro 4 (petrol) |
| Motorcycles | Euro 3 |
Unsurprisingly, the bigger the vehicle, the newer the engine that's required.
Vans currently need to have a Euro 6 diesel or Euro 4 petrol engine to be CAZ-compliant.
That may change in the future to meet the UK Government's goals of net-zero carbon emissions.
For now though, if you're driving a Euro 6 van, you don't need to stress.
UK Clean Air Zone Exemptions
Luckily, not all vehicles will be penalised.
Similar to London's Ultra Low Emissions zone, certain types of vehicles are exempt from paying the daily charge.
Here's a full list of vehicles that don't currently have to pay CAZ charges:
A vehicle that's ultra-low emission (outlined in the table above)
A disabled passenger tax class vehicle
A disabled tax class vehicle
A military vehicle
A historic vehicle
A vehicle retrofitted with technology accredited by the Clean Vehicle Retrofit Accreditation Scheme(CVRAS)
Certain types of agricultural vehicles
Clean Air Zone Cities
2021 was a big year in the rollout of clean air zones in the UK. 2022 looks to be no different.
Bath became the latest city to commit to cleaner air quality in March, and plenty more are expected to follow suit.
Birmingham will make theirs live in June, with Leicester later in the summer.
Here is a full list of cities that will or are believed to introduce Clean Air Zones in the coming months:
Bath: 15th March
Birmingham: June 1st 2021
Leicester: Summer 2021
Oxford: August 2021
Bradford: October 2021
London: ULEZ expansion October 2021
Bristol: 29th October 2021
Portsmouth: November 2021
Manchester: Spring 2022
Glasgow: Feb – May 2022
Edinburgh: Feb – May 2022
Dundee: Feb – May 2022
Aberdeen: Feb – May 2022
How UK Clean Air Zones May Impact Van Drivers
Penalty Charges
There's one thing all businesses care about: money.
Travelling to/in UK Clean Air Zones when your vehicle doesn't meet emissions standards will cost you.
Because penalties need to be paid every time you enter a CAZ, those travelling frequently within the area will be the worst hit.
If your business is based in a CAZ or you regularly travel to one for deliveries/jobs, you'll have a decision to make (scroll down to later on in the piece for some potential solutions).
Buying Habits
Van users already have a number of factors to consider when buying a van.
Prize, size, warranties, aftercare – you name it.
As a vehicle supplier, we've noticed a rising trend in recent years of customers becoming more concerned about if certain vans meet certain emissions standards.
For big fleet and city-based businesses, clean air compliance is equally as important as any other feature on a van.
The reason is simple: they know that failing to comply with air quality standards can actually cost them more in the long run than upgrading to a newer, cleaner van.
This trend will only grow with the further rollout of UK clean air zones.
Older vans will become less desirable as their engines become more and more outdated.
Business owners and van buyers will shift their focus to newer engines to ensure their fleets are future-proof.
Government Goals To Ban Diesel
Petrol and diesel cars and vans will be banned from sale in 2030, according to plans recently announced by Boris Johnson.
That's right – in nine years time, you will not be able to buy a petrol or diesel van.
Newer hybrids will still be available for purchase up until 2035 if they can cover a 'significant' distance on their zero-emission modes.
The Government is set to invest billions to help facilitate the move away from fossil fuel vehicles to achieve their goals of net-zero carbon emissions by 2050.
EV charge points, grants, production and battery development are just some of their areas they'll throw money at in the coming years.
Considering the rapid technological strides made in the EV sector in recent years, it's not unreasonable to think electric vans will be performing to suitable standards by 2030.
Ford claims their newly-announced e-Transit can travel up to 217 miles on a single charge with a payload of 1616kg.
With that kind of performance, van users won't need to worry about more restrictions and UK clean air zones being rolled out in the future.
The Solutions
Pay the charge
The simplest fix, but could arguably end up costing you a lot of money in the long run.
If you still need to access the zone – whether regularly or sparsely – and aren't quite ready to say goodbye to your old vehicle, simply paying the charge could be the right choice for you.
Paying UK clean air zones' charges can be rather straightforward. In London's case, if you're to pay a ULEZ charge you simply log onto the Transport For London website and pay your balance.
Deadlines and exact payment processes for future UK clean air zones may vary.
Again, we advise contacting your local council for more information.
Avoid clean air zones where possible
This option will save you the most money. But we understand it might not be entirely possible.
A lot of businesses rely heavily on travelling to or within big cities. Couriers, tradespeople, delivery service – you name it.
If travelling within a CAZ is simply unavoidable, our other two solutions may be more appropriate
However, say, for example, you're a logistics company with a large fleet of vans. Some of your drivers might be using newer, Euro 6 vehicles for deliveries while others might be stuck with Euro 5 or older engines.
Make sure you're only using newer vans for deliveries into cities and keep your pre-euro 6 vehicles for more rural routes.
If you don't have a fleet of Euro 6 (or newer) vehicles at your disposal…
Upgrade your old van
This option might be the hardest to take in at first.
Forking for a brand new van might not seem the most cost-effective option for your business – but that couldn't be more wrong in some cases.
At Vantastec, we've had countless London-based businesses reduce their daily operating costs after buying a new diesel Euro 6 or electric refrigerated van.
Let's break down how.
London's ULEZ charge for vans is currently £12.50 per day. Say you work a five-day week, that works out to £62.50 per week or approximately £270.83 per month.
Plus the daily congestion charge of £15, you'll end up paying a total of £595.83 per month per vehicle just for travelling in central London.
So, yes – if you're travelling an outdated gas-guzzler in large cities on a daily basis, you can actually save hundreds of pounds every month by upgrading to a shiny new van.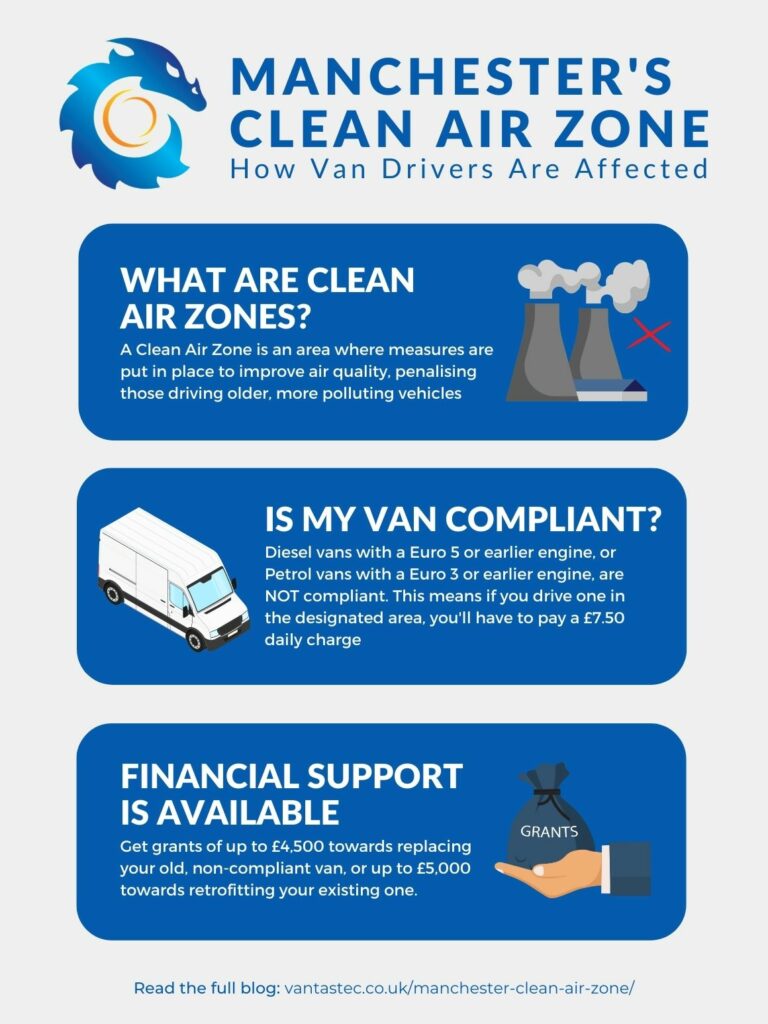 Conclusion
So, that concludes our guide on Greater Manchester's Clean Air Zone and how van users can make the most of its introduction.
Hopefully, if you're one of the road users affected by the scheme, you're now equipped with the knowledge of how to make the next necessary steps to reducing its impact on you and your business.
Now, we'd like to hear from you.
Do you have any questions on the topics we've covered today? Are there any other van-related topics you'd like us to cover?
Let us know in the comments below!
Read next: