Greater Manchester Clean Air Zone: A Complete Guide For Van Users
The Greater Manchester Clean Air Zone has been officially announced and will be rolled out from May 2022.
Joining the likes of Bath, Birmingham and London, Greater Manchester has become the latest area in the UK to unveil plans for improving air quality within the region.
Clean Air Greater Manchester is the initiative spearheading the green revolution up north, looking to replicate the ongoing success of London's Ultra Low Emissions Zone.
Low emission zones have been a hot topic in the light commercial vehicle sector recently. Announcements for new zones are coming thick and fast, meaning van drivers need to get clued-up or it'll end up costing them in the long run.
Here is  everything you need to know about the Greater Manchester Clean Air Zone and how van users can make the most of it:
What Are Clean Air Zones?
Before diving into the ins and outs of how the Manchester Clean Air Zone will work, let's start from the top: what exactly is a Clean Air Zone?
A Clean Air Zone (CAZ) is a designated area where proactive measures are being put in place to improve its air quality.
Clean Air Zones typically penalise those driving older, more polluting vehicles while incentivising road users to upgrade to newer, cleaner engines.
These penalties come in the form of a fixed charge for every time you enter the zone – similar to London's congestion charge.
Such measures are introduced for the benefit of both the area's residents and our environment.
According to European Environment Agency, 379,000 premature deaths in 2018 were attributed to fine particulate matter (PM2.5) in the 27 EU Member States and the United Kingdom.
PM2.5 is an air pollutant that typically comes from power plants, construction sites and – you guessed it – automobiles. It also contains microscopic solids or liquid droplets that are small enough to be inhaled and cause serious health problems.
EEA's findings tell us that only is pollution damaging our environment, but our health as well. And large gas-guzzlers have a major part to play.
How The Greater Manchester Clean Air Zone Will Work
Greater Manchester's Clean Air Zone is due to launch on Monday 30th May 2022 and will be in operation 24 hours a day, seven days a week throughout the designated zone (see a full map of the area below).
Owners of non-compliant vehicles will need to pay a daily charge via the government's online charging service which will be launched in conjunction with the rollout of the zone closer to the time.
Automatic number plate recognition cameras will be set up throughout the region to detect non-compliant vehicles and keep track of any outstanding penalties.
If the charge hasn't been paid, a penalty of £120 will be issued in addition to the original bill, reducing it to £60 if paid within 14 days.
Daily charges for non-compliant vehicles will vary depending on their size and the amount of harmful emissions they produce.
Here's a breakdown of the charges for each vehicle type per Clean Air GM's official website:
Buses and Heavy Goods Vehicles (HGV) – £60 (from May 2022)
Coaches – £60 (temporary exemption until 1 June 2023)
Taxis and private hire vehicles – £7.50 (from 30 May 2022, temporary exemption for Greater Manchester-licensed vehicles until 1 June 2023)
Light goods vehicles (LGV) such as vans and minibuses – £10 (temporary exemption until 1 June 2023)
For van users, there's good news.
Vans are temporarily exempt from charges until 1 June 2023. This means fleet operators and van users have just over a year longer to prepare and adapt to these changes.
This additional period will allow more time for manufacturers to master new, sustainable versions of their vehicles and reach the same performance levels as their petrol and diesel counterparts.
For electric vans, this could mean bigger vehicles with greater driving ranges and more charging points installed throughout the country.
However, this extra year could also mean more time to learn about other emission-free alternatives such as hydrogen.
Greater Manchester Clean Air Zone Area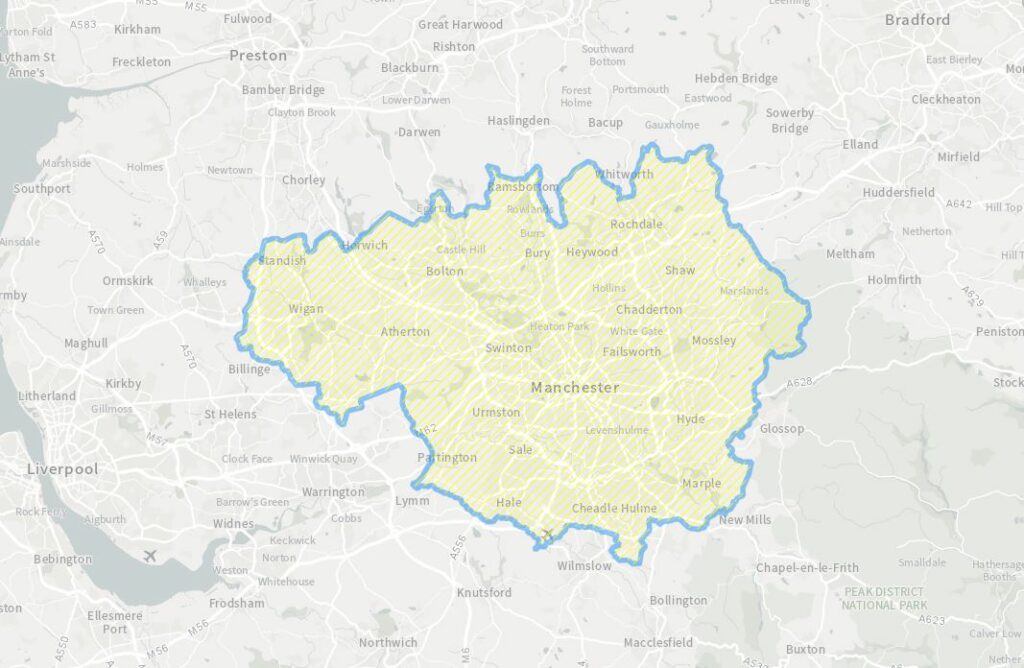 The Greater Manchester Clean Air Zone's coverage will match the administrative boundaries of Greater Manchester.
Clear signage will be situated upon entering the zone to allow drivers who don't wish to enter to find an alternative route.
However, the area will exclude motorways and other major trunk roads as they are managed by Highways England.
Is Your Van CAZ Compliant?
Now you know the ins and outs of the Greater Manchester Clean Air Zone, let's get down to the nitty-gritty of how it will affect van drivers – if at all.
The first step is finding out whether your vehicle is CAZ-compliant. If so, you won't need to pay any penalty charges.
As per Clean Air GM's official website, the following vehicles will need to pay the proposed £10 daily charge from 1 June 2023:
LGVs and minibuses with a Euro 5 or earlier diesel engine (pre-2016)
LGVs and minibuses with a Euro 3 or earlier petrol engine (pre-2005)
If you're unsure whether your vehicle falls under these categories, check out Clean Air GM's official vehicle checker here.
Clean Commercial Vehicle Fund
If your vehicle doesn't qualify as CAZ-compliant and you desperately want to avoid the daily charge, fear not.
Financial support will be available for businesses, people and organisations to either replace or retrofit non-compliant vehicles with compliant ones so you do not have to pay the daily charge.
£73.5m has been secured as part of a Clean Commercial Vehicle Fund in the form of grants for successful applicants.
Those who meet the eligibility criteria can apply for either of the following:
Up to £4,500 grant to replace an old vehicle with a compliant one
Up to £5,000 grant to retrofit existing vehicles so to make them compliant
Access to vehicle finance, offering a zero per cent or low-cost loan up to £4,500
The most interesting aspect of the initiative is that nowhere on the Clean Air GM website does it mention the word 'scrappage'.
This means – at least from what we can gather from the information currently at hand – that unlike London's ULEZ scrappage scheme, you won't even need to trade-in or scrap your old vehicle to access funding!
Applications for funding open in November 2021. Stay tuned to our social channels or sign up to our mailing list for more updates on applications as they come.
Conclusion
So, that concludes our guide on Greater Manchester's Clean Air Zone and how van users can make the most of its introduction.
Hopefully, if you're one of the road users affected by the scheme, you're now equipped with the knowledge of how to make the next necessary steps to reducing its impact on you and your business.
Now, we'd like to hear from you.
Do you have any questions on the topics we've covered today? Are there any other van-related topics you'd like us to cover?
Let us know in the comments below!
Read next: